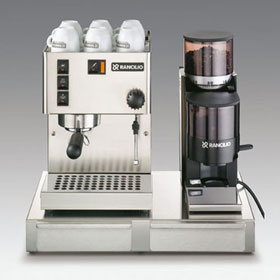 Just this week, The Pad inherited a wonderful new addition to its toy collection - a gorgeous Rancilio espresso machine and coffee grinder. In addition to the way mornings are looking MUCH shinier now, having access to wonderful, freshly ground, freshly pulled espresso has had me pulling out some of my happiest coffee based cocktail recipes. This one, named simply TIKI, was part of the second season of the Black Orchid Club and is a cocktail worthy of sharing:
The rhythm of the savages, the music of the idols, the depths of mystery. Taste this combination of cardamom, almond, lime zest and bitter chocolate with rich Portuguese coffee, dark West Indian rum, and sweetened condensed milk, and be transported to a hidden jungle paradise.
Tiki
(cocktail by Suzanne Long for the Waitiki 7, and their 2010 release The New Sounds of Exotica) 1 oz sweetened condensed milk mixture in bottom of glass (half condensed milk, half heavy cream)
3 oz cold strong expresso - Sical Cinco Estrelas (from Portugal)
1 oz Tiki Syrup (see below)
2 oz Trader Vic's Dark Rum (Whalers is a reasonable substitute, Zaya makes for a very luxurious cocktail) Shake rum, coffee and syrup with ice. Pour into cooler with condensed milk in the bottom. Garnish with an orchid, zest of fresh lime, a long coffee spoon and straws. To make the Tiki syrup, take the zest of three oranges, the zest of one lime, 1/2 juice from each the orange and the lemon, and ten green cardamom pods, and bring to a boil in 4 cups water. Boil 5 minutes. Add 2 tsp chocolate extract and one tsp almond extract and 8 cups sugar, slowly stirring until sugar is totally incorporated and syrup is clear. Allow to cool and store in the refrigerator. Now, there are so many options when choosing coffee that I encourage you, as I would with rum, gin, whiskey or anything else you add to a cocktail, to experiment and learn the glorious ins and outs of different roasts and brands. I use the Sical five star coffee from Portugal because I am in love with its unapologetic briskness and intense flavor, which reminds me of MANY mornings that followed rum soaked nights when I lived in Boston.
Imbibe Magazine
just published a really nice article with some other very interesting cocktails using coffee. If you're looking for a few more excellent ones to try, check it out at
http://imbibemagazine.com/Elements-Coffee
. Also, a very hearty MAHALO to Tracy Howard and Imbibe for including The Pad in their article on inspiring home bars! If you'd like to read about my home lab, check out the article at
http://www.imbibemagazine.com/Inspiring-Home-Bars
! I'm off to another cup of glorious espresso! I'll see YOU there - EVERYWHERE! -- Suzanne